Dear Gallery Owners & Artist Studios,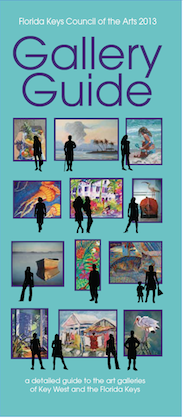 It is time to join or renew your listing in our Gallery Guide.
Be included in the only county-wide guide that visitors and locals carry throughout the Keys! They all love the clear and easy to read layout and map.
The $375-rate also includes a Business Partner Membership with the Florida Keys Council of the Arts. Or choose the Corporate Partner Membership option for $1,000 which also includes your Logo and a live link to your website on our weekly e-blasts for a year.
Click here to fill in the 2014 Gallery Guide listing form online. It's easy to do. Remember to submit it by June 15th. After this date, the rate goes up to $400.
To view the current Gallery Guide, please click on the cover image to the right.
We distribute 30,000 copies to over 200 locations including hotels, guesthouses, restaurants, galleries, museums, shops, chambers of commerce & libraries from Key West to Key Largo. The Tourist Development Council distributes the guide nationally and internationally at travel trade shows. The Gallery Guide is also posted on our website www.keysarts.com and it is among the most popular downloads on the TDC's www.fla-keys.com arts & culture page!
Do not hesitate to contact us should you have any questions.
Thank you for your support on behalf of our arts' community.

Elizabeth S. Young
Executive Director