| | |
| --- | --- |
| ARTIST EXHIBITIONS/RECEPTIONS | |
Hearts & Bones, Martha Hubbard, Kerry Hoeppner & Penny Garcia, Mockingbird Studio, 1616 Catherine St., Key West, facebook.com/events/



















Workshop Creating Party - Florida Keys Council of the Arts Connections Project, Our Place in Paradise, Tavernier, 305-916-5828, keysarts.com

Workshop Creating Party - Florida Keys Council of the Arts Connection Project, Key Largo Library, 305-295-4369, keysarts.com

Literary History of Key West, & Key West Collects, Custom House Museum, 281 Front St., Key West, 305-295-6616, kwahs.org







Diving With a Purpose: Restoring our Oceans, Preserving our Heritage, History of Diving Museum, 82990 Overseas Hwy., Islamorada, 305-664-9737, divingmuseum.org

THROUGH MARCH 1

On Fly in the Salt: American Saltwater Fly Fishing from the Surf to the Flats, Keys History & Discovery Center, 82100 Overseas Highway, on the property of the Islander Resort, MM 82 in Islamorada. www.keysdiscovery.com





















Truman Waterfront Market, Truman Waterfront Park, 21 E. Quay Rd, 305-731-3385, facebook.com/kwfarmersmarket/




























Holiday Concert & Bazaar, Custom House Museum, 281 Front St., Key West305-295-6616, ext. 114, kwahs.org




MARC House Christmas Tree Sales, MARC House, 1401 Seminary St., Key West305-294-9526 x 25, marchouse.org






















Music at Martello Presents Perpetual Groove w guests The Happy Dog, Fort East Martello, 3501 S Roosevelt Blvd., Key West, kwahs.org




Keys Chamber Orchestra Christmas Cantata Concert - Shout the Good News, San Pablo Church, 550 122nd St. Oceanside, Marathon










Annual MTC Holiday Concert, Marathon Communtiy Theatre, 5101 Overseas Hwy. Marathon, 305-743-0994, marathontheater.org













TUESDAYS, 5 PM (Dec. 17 - April 15)

Nancy 3. Hoffman at the Piano Bar at The Gardens Hotel, 3nancy3@gmail.com or The Gardens Hotel at 305-294-2661.







At the Key West Theater:




Leonid & Friends: Performing The Music of Chicago and Blood, Sweat & Tears

Huck & Lilly: Music for Kids

Bret Michaels
















Around the World in 80 Days, Waterfront Playhouse, Mallory Square, Key West305-294-5015, waterfrontplayhouse.org
















Tiny Beautiful Things, Red Barn Theatre, 319 Duval St. Rear, 305-296-9911, redbarntheatre.com






FRIDAY, 4:30 PM & SATURDAY, 10 AM

Literary Walking Tours, Key West Library, 700 Fleming St., Key West, kwls.org/tour




Literary Reading and Book Signing Roberta B. Marks - Works and Worlds, Books & Books @ The Studios, 533 Eaton St., Key West, booksandbookskw.org/events




Key West Writers Guild, Key West by the Sea, 2601 S. Roosevelt Blvd. (Community Room), 904-403-0866

Marathon Writers Workshop, Keys News & Coffee, 2960 Overseas Hwy., Marathon, 305-942-1357

Keys Writers Meeting, Big Pine Library Conference Room, Winn-Dixie Shopping Plaza.305-849-0294







Literary Reading and Book Signing - Phyllis Rose - Alfred Stieglitz, Books & Books @ The Studios, 533 Eaton St., Key West, booksandbookskw.org/events













Who Will Write Our History,

M3M (Movies on the 3rd Monday), B'Nai Zion Synagogue, 750 United St., Key West, 404-274-3217,

bnaizionkw.org




At The Tropic Cinema:

416 Eaton St., Key West, tropiccinema.com

Films daily plus special screenings.




Nat'l Lampoon's Christmas Vacation








Immerse Yourself: Transatlantic Slave Trade, History of Diving Museum, 82990 Overseas Hwy., Islamorada, 305-664-9737, divingmuseum.org
















Mario Sanchez - Nance Frank, Gallery on Greene,
606 Greene St., Key West, 305-294-1669, galleryongreene.com











| | |
| --- | --- |
| WEDNESDAYS, THURSDAYS & FRIDAYS, 8:30 PM | |
Buoy Painting with Baby Turtles, Key West Art Center, 301 Front St., 305-294-1241,

keywestartcenter.com





At The Studios of Key West:










Drop-in Painting Classes with Jim Salem

, Sugarloaf Lodge Tiki Bar- rear, MM17. 1/2 hour demo then painting session until 12:30 p.m., 305-394-5555,

jimsalem19@gmail.com










Life Drawing with Annamarie Giordano, Fort East Martello, Key West, 609-884-3474, kwahs.org































MORE EVENTS, CLASSES & WORKSHOPS click

here



Florida Keys Council of the Arts




Membership benefits include a weekly e-calendar, quarterly events calendar, annual gallery guide, a listing in our Artists Registry, advance notice of special events and workshops, and more.


Our Advocate Level ($250 and up) offers insight
and attendance for two to our Culture Circle Series,
which includes four exciting sessions.




Your membership helps us sustain our vibrant cultural
and arts communities throughout the Florida Keys.




We Support * We Connect * We Promote * We Give




Connections Project 2020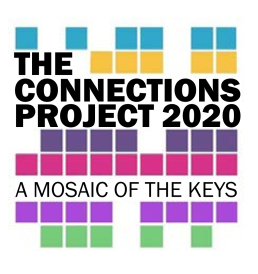 Canvases are

still available!
Connect with us!
Click HERE to sign up and to see free Workshop Creating Party dates!
Canvases are due

by Jan. 31, 2020
Art Adventure Watercolor Classes
Join artist/teacher
Ann Lynch
Tuesdays & Wednesdays
Starting January 14
Last class: March 4
Shady Palm Art Gallery 2888 Overseas Hwy Marathon, FL
Course Cost - 16 classes- $320
Advanced payment holds
your reservation
Contact Ann at
(305) 731-8683
Sunshine Rug Hookers
Sunshine Rug Hookers meet every Wed from 1pm to 3pm
at the Methodist Church
on Big Pine Key.
All levels of hookers welcome. We teach basics and advanced methods of this art form.
Come and try it or share your projects with our group. for more info email redheron@aol.com
Sponsors and Supporters of
The Florida Keys
Council of the Arts